Emily – Client Operations Supervisor
Joined Transact November 2017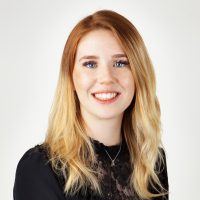 Why did you decide to join Transact?
I decided to join Transact after spending two years working as an apprentice within the financial services industry. I wanted to further develop my knowledge in the sector, and Transact gave me that opportunity.
Since joining Transact, I have been able to develop my skills in a variety of different departments, build relationships with our customers, and manage my own work load on a day-to-day basis.
Talk us through your career at Transact so far.
I started at Transact in November 2017 as a Client Service Manager, helping advisers within the North West and East Midlands region. After around six months into the role I specialised as a "deceased processor", where I handled a greater volume and more sensitive cases within my regional team.
Following this role I became a Transfer Subject Matter Expert, which meant I contributed to training and the evolution of the transfer process throughout Client Operations and other departments. I have recently been promoted to a Client Operations Supervisor within my current regional team, where I plan to continue developing my management skills.
What does your current role involve on a day-to-day basis?
My day begins with a catchup with my Regional Operations Manager, to plan for the day ahead. We take into consideration any meetings, absences and the team's work load. Depending on my role for that day, I will allocate tasks to my regional teams work queue.
I spend my morning vetting previously worked on tasks, identifying where chasers or updates are required from advisers or other departments. Once this has been done, I action a daily Transfer Report, where I check every electronic transfer case set up on the previous day to ensure accuracy on these cases.
Whilst managing phone calls, internal face-to-face queries and emails, I action and check all dealing trades up until 2pm. On most days, in the afternoons I focus on more paper-based tasks, which do not have a dealing deadline. On occasion, this is the time that any meetings take place to discuss projects I may be involved in.
Throughout the day, I will be the first point of call for any escalations or queries that require further investigation on team.
How would you describe the culture at Transact?
I would describe the culture at Transact as being very supportive and driven. Opportunities are offered at all stages of your career, as long as you are willing to show that you are eager to learn and develop your skills.
The "people aspect" of the company is very social and this leads back to being able to build great relationships with your colleagues inside and outside office working hours. This drives us all to succeed as one team, and help each other every step of the way.
What advice would you give someone joining the business?
My advice is to not be afraid to expand your knowledge of the company. Transact offers many secondment opportunities within the business which allow you to explore different areas. It also provides a great chance to meet new people and experience different management styles.
By building these relationships, you bring the benefit of these contacts and the insight you have gathered back to your regional team to help coach those around you.