Keval – Third Party Support Manager
Joined Transact September 2015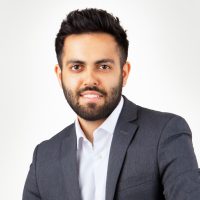 Why did you decide to join Transact?
I relocated to London from the East Midlands and joined Transact in 2015 after graduating in Economics, Finance and Banking.
Having previously worked in retail banking during my studies, I was keen to broaden my horizons within the many sectors of Finance. This led me to apply for the Transact trainee program. As a well-established, award-winning investment platform which operates in the City of London, my decision to relocate and join Transact was easy.
Talk us through your career at Transact so far.
I started at Transact as a trainee which involved working on the Document Management team and Client Approval team. Although there were a wide range of opportunities to progress throughout the company, it was obvious to me that I wanted to build relationships with our clients. This led me to progress into the role of Client Service Manager in January 2017 for the London and Outer London region.
As the leading investment platform we strive to offer the best service to financial advisers. The Client and Online Service Manager role was introduced to enhance our service, and following a four-month secondment within our Sales Team, I specialised in this role within the Client Operations department. I offered online support to adviser firms helping with transactional and reporting requirements within Client Operations.
The success of my secondment and my development throughout has allowed me to join the Sales Team on a permanent basis. I was recently appointed as a Third Party Support Manager, where I manage relationships with Discretionary Investment Managers, SIPP and Offshore Bond providers.
What does your current role involve on a day-to-day basis?
I am the point of contact for third parties using the Transact Platform. This includes, Discretionary investment managers (DIMs), SIPP and Offshore Bond providers. My role involves working alongside our Adviser Support Managers and Business Development Managers in the Sales Team to effectively manage the roles and responsibilities of both the adviser and the DIM while using the Transact Platform.
I keep in regular contact with our third parties providing field based support and training, as well as using tools such as our co-browsing screen share functionality to provide assistance in-house.
I also work closely with our website support team. I provide them with third party feedback and recommendations that allow our developers to improve our platform technology.
How would you describe the culture at Transact?
Throughout Transact, we all share the same ambition and values – to offer an industry-leading service to the financial advice market.
As well as maintaining a service-driven ethos, we are a dynamic and social company. Speaking up with ideas is welcomed throughout all the departments and I believe the success of the organisation is due to the collaborative efforts of all.
What advice would you give someone joining the business?
Be creative. There are often many options and solutions that could help our clients, and sharing knowledge and providing feedback can help implement change within the platform industry.