INVESTOR AUTHORISATION
The first platform to offer end-to-end online approvals with Investor Authorisation
Transact has once again led the way by revolutionising the way clients can approve the trades recommended by advisers. Available for all advisers and their clients any time, via mobile device or desktop, Investor Authorisation (IA) functionality is proving to be a valuable time-saver.
This approach to approvals provides business benefits such as:
Saving time
Keeping clients informed and making it easy for them to approve trades
Making bulk tasks easier and more efficient to manage
Supporting advisers' compliance responsibilities
Modernising this aspect of your business
Best practice case studies
Along with Investor Authorisation, our Peer Review functionality is a popular service that allows you to add a layer of approval within your firm before a trade is submitted. Read our case studies below to see real-life feedback on how both Investor Authorisation and Peer Review have helped adviser firms save time, reduce risk and improve workflow efficiency.
How Investor Authorisation works: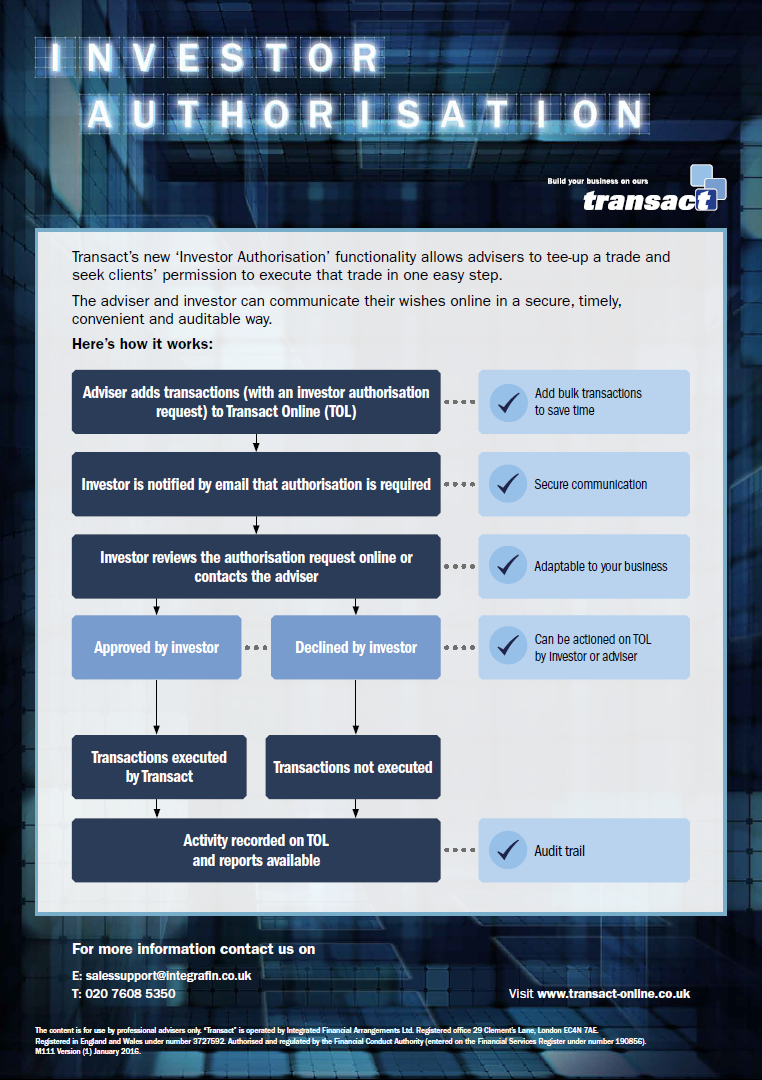 Try a demo
Log in to Transact Online as demo user and look out for the 'Investor Authorisation Requests' widget.
IA adviser guide
Find out more about IA and  'Peer Review' functionalities.
To find out more about how Investor Authorisation works, watch our training video below