James – Client Operations Supervisor
Joined Transact January 2017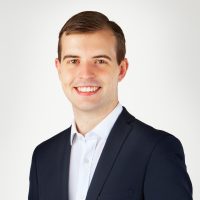 Why did you decide to join Transact?
I joined transact in January 2017 as a Client Service Manager.
The chance to build close relationships with financial advisers appealed to me, and I liked the fact that you are given the opportunity to speak to the same advisers frequently and gain a good understanding of the needs of their business.
One of the things that impressed me most about Transact is that all systems are built and updated in-house. These are not systems that were built years ago and scarcely amended since – there is a monthly new release to implement system improvements recommended by staff and advisers.
Talk us through your career at Transact so far.
I initially started as a Client Service Manager on a regional team. The Client Service Manager role is very broad, and starting out here really helped me to learn about Transact's full range of financial products.
I then went on a secondment to the Operational Compliance team, which was a great opportunity for me to view a different side of the business. I learnt a lot about the UK regulatory environment during my few months with Compliance.
When I returned from secondment, I became a Client Service Manager on the regional team for the Midlands.
I was then promoted to my current role of Client Operations Supervisor for the team, and given further responsibilities. I am enjoying this role, and it has showed me there is always more to learn!
Throughout my time with Transact, the company has supported me a great deal academically, having funded six financial exams so far.
What does your current role involve on a day-to-day basis?
I support the Regional Client Operations Manager in managing a team of Client Service Managers who service clients and advisers in the Midlands.
The Client Service Managers place trades for the advisers, action transfers, and deal with any queries they may have, alongside a large number of other responsibilities.
Along with the Client Service Managers on the team, I focus on the relationship we have with our advisers to ensure everything goes smoothly, providing the best service possible. In my role specifically I deal with any issues the advisers are experiencing and any more complex queries they have.
How would you describe the culture at Transact?
Transact has a completely different culture from my previous employer. New ideas are accepted and nurtured. Even during my short time at Transact, I feel like there have been a lot of progressive changes.
The hierarchy is also very relaxed. From the start, where necessary I felt like I could approach any of the senior managers or directors if I needed their assistance or approval for a case I was dealing with.
Inter-departmental relations are also very good, so you feel like you can pick up the phone and speak to any department about any issues or queries you have. This especially helps people in Client Operations, as if you do not know the answer to a query, you know that there is someone who will!
This is reinforced by the fact that most of the staff are based in the London office. This fosters a collaborative relationship where departments work together and communicate very well.
What advice would you give someone joining the business?
You can make meaningful changes at Transact, so from the start it is worth trying to think outside the box on what you would change about our systems and processes.
If you start as a Client Service Manager, ensure you use the knowledge and experience on your team as much as you can. They can help you build up the knowledge you need to perform the role well.